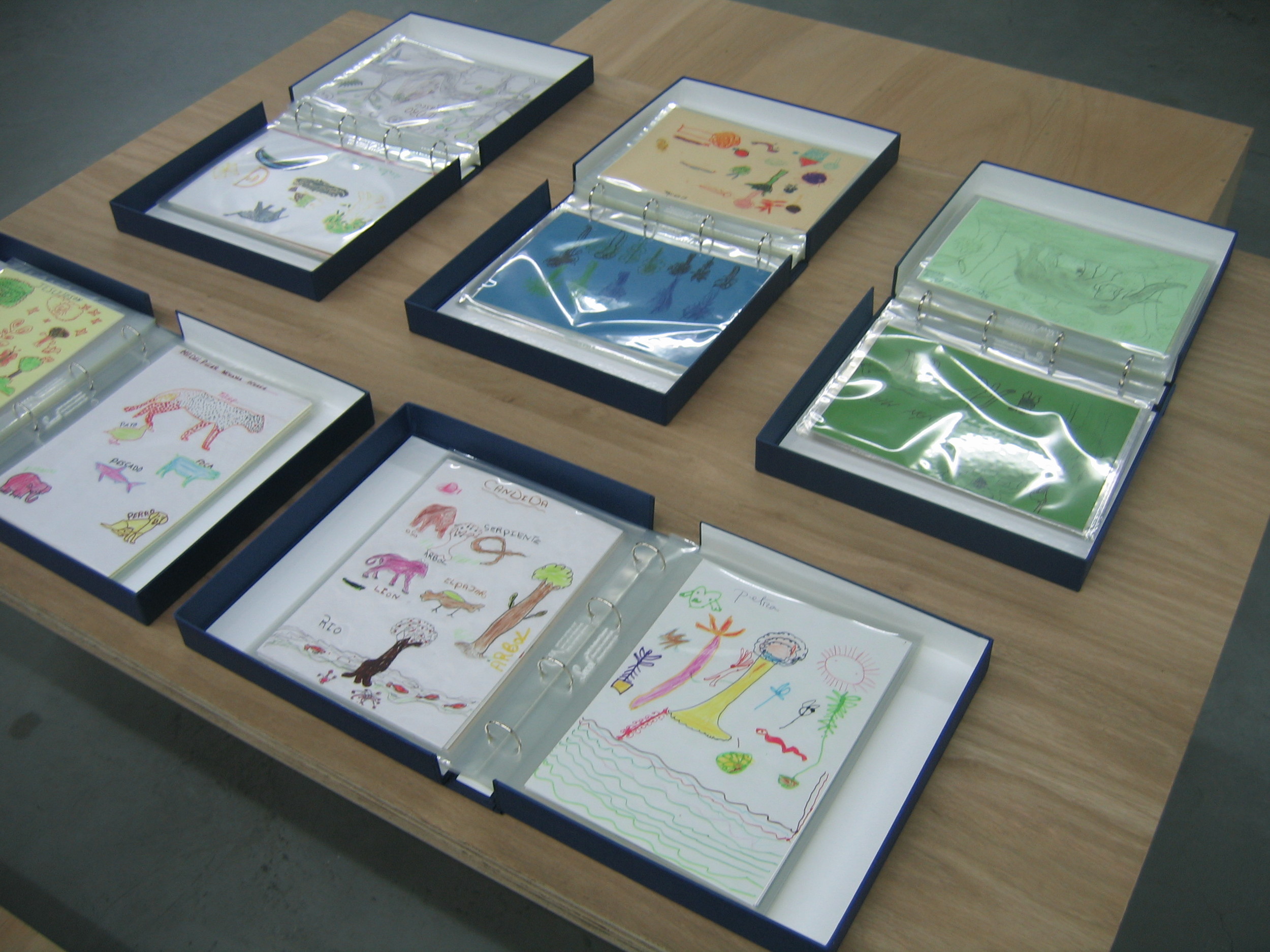 /
Totem in the Anthropocene
Snowflake (Flota Nfumu)
The project Flota Nfumu (White Fleet) observes the cultural remembrance, the history and myth of the albino gorilla whose popular name was Snowflake, but also known in Spanish as Copito de Nieve, in Catalan as Floquet de Neu and in Fang (his African origin) as Nfumu. After his arrival at the Barcelona Zoo, where he was an absolute crowd pleaser and where he lived from 1966 until his death in 2003, Nfumu was renamed as Snowflake. In the last months of Snowflakes life, the Barcelona Zoo announced a campaign/homage that was presented through all types of media across Spain and a part of this homage was that children could get a free entrance ticket to the Barcelona Zoo in exchange for a drawing dedicated to the albino gorilla Snowflake. These original 4358 children's drawings now only survive in archive through a DVD called "Els nens dibuixen en Floquet" (children's drawings of Snowflake) made by the Barcelona Zoo. Van Dingenen's maquette is a re-documented and reprinted collection of these children's drawings that represent the mass homage to the cult of this famous albino lowland gorilla.
During the summer of 2008 Filip Van Dingenen set up a drawing project with children in Bata, Equatorial Guinea whilst retracing Jordi Sabater Pi's research area. Emeritus born Professor Jordi Sabater Pi (1922) worked as ethologist and anthropologist in Equatorial Guinea from 1940 until 1969, besides his diverse range of research and many achievements, he is also known as the man who brought Snowflake to the Barcelona Zoo. The Sabater Pi Collection, at the Barcelona University houses books, journals, drawings and watercolors from fauna and flora - especially some exclusive material of primates and above all extensive research of Snowflake.
On a larger scale, Van Dingenen's project handles about nature conservation, human animal relations and animal stardom, generated through media and tourism over the last 40 years from Spain, and as a consequence, Snowflake's place of origin Equatorial Guinea.
The artist zooms in on the cult to the albino gorilla whose mimicry is so human-like it gets disturbing. On the basis of the archive of children's drawings, the artist retraces Copito de Nieves' remarkable biography. His extremely rare genetic particularities generated an auction of scientific, economic, colonial and exotic complaints: a miserable tangle that seems completely embedded in the false reality of a zoo.
Rethinking Art, Archives and Pedagogy in the case of Copito de Nieve